Now that you've had your new worktops installed it's important to know how to keep them looking their best. They don't require complicated routines or products, just a bit of TLC.
For both quartz and granite wipe up any spills immediately using a soft microfibre cloth.
Quartz worktops are made from a mix of crushed quartz and resin that creates a composite material that is hard-wearing and strong. Quartz is non-porous and is stronger and harder than marble and granite, it is scratch and stain-resistant and requires little maintenance.
Wipe your quartz worktops with soapy water then polish with a soft cloth. Don't use anything abrasive on your quartz worktops or you risk scratching them. Some of our worktops even have antibacterial properties impregnated into them.
To keep your worktops looking their best we recommend you use Q-action cleaner periodically to remove any ingrained dirt.
Never place hot plans and cookware directly onto your quartz, always use a heat pad or trivet. Although quartz is resilient and hardwearing it can be damaged by excessive heat.
The quartz manufacturers used by C&J Stonemasonry offer at least a 10-year guarantee on their products, which isn't necessarily the case with the lower quality, unbranded quartz used by some companies.
If you're looking for an easy-care work surface to add the wow factor to your kitchen, quartz is the product for you.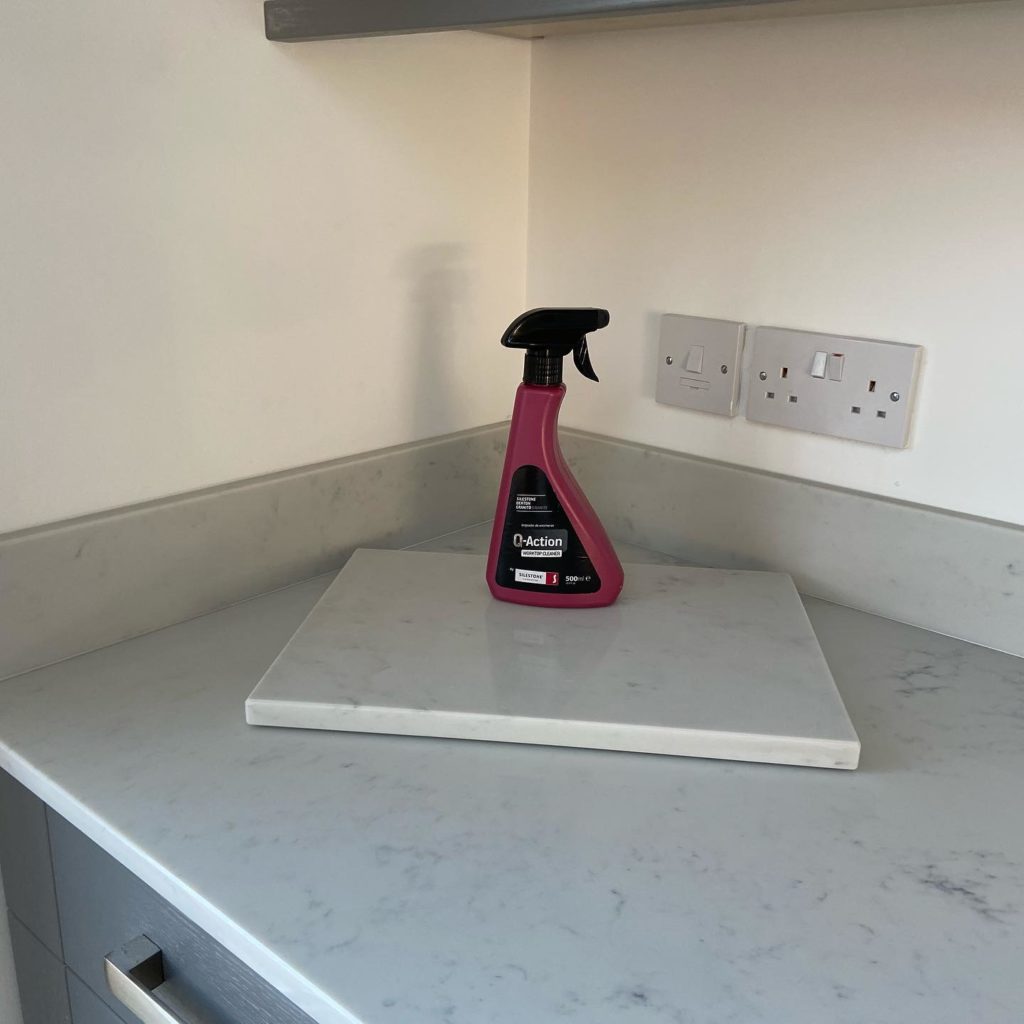 Caring for granite worktops is. little more complicated, but only because they need to be sealed at least every year. Granite is a natural, porous stone and will soak up liquids more than quartz. They come sealed but will need maintenance to keep their beauty and strength.
The exception is the Sensa range, which has been specially treated to have the same qualities as quartz but with the look of granite.
We offer advice on the best way to seal your worktops and the best products to use. We recommend Lithofin products to keep your worktops looking their best.
Maintenance of your granite worktops is easy, just wipe down with warm soapy water and a soft cloth, then dry off with a microfibre cloth to prevent streaks. It's important to wipe any spills immediately, especially acidic foods like lemon juice and vinegar, and oils or highly coloured foods that can stain.
To prevent damage to your worktops always use a heat mat or trivet for hot pans, and a chopping board to prevent scratches.
We supply a complimentary chopping board with all worktops to help you keep your worktops looking pristine.
If you would like more information about our worktop care we are always happy to help.
Contact us today on 01405 806300 or
sales@marble-granite-quartz.com and make your dream kitchen a reality.