There's so much more to fitting worktops than just turning up to your house with a slab of granite or quartz and installing it on your units. It takes skill and expertise to install stone worktops as they are heavy and need to be precisely cut and finished to our exacting standards. After all, you wouldn't want your worktop to drop or crack after a few months. We use specialist equipment and sealants to give a perfect finish every time.
Choose your worktops
When it comes to selecting your worktop the first point of contact is often our website, where you can find all the information about our services, worktops and examples of previous installations. We have an online quote form where you input your worktop sizes, which worktop(s) you like and any extras you are interested in such as sinks and taps, drainer grooves, upstands, splashbacks and pop-up sockets.
If you need any advice or would prefer to deal with a person our friendly staff are on hand to answer your questions and offer advice. We also have a new showroom full of kitchen displays and samples of all the worktops we supply, so you can pop in and see what they look like up close. We can send out samples if you're too far away to visit us in Goole.
Once you've decided on your worktop, which is a mammoth job in itself as there are so many beautiful designs to choose from, we'll be able to give you a price for the job. We aren't like a lot of worktop installers in that we don't ask for a deposit. We're so confident that you'll be delighted with your finished worktops that we only ask for payment when everything is completed to your satisfaction.
Templating
The next stage is a visit by one of our expert installers to create a template of your kitchen that will be used to cut your worktops to their exact specifications. We carefully measure out all the templates to ensure cutouts are properly placed, upstands are the correct height and width, and any extra features are accounted for. This is particularly important in older homes when walls may not be straight. We use a correx board to create the templates, which we then send to be recycled as they can't be reused.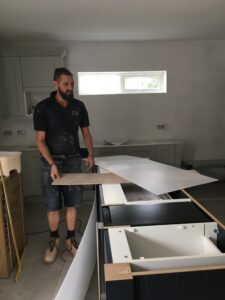 Meanwhile, your chosen worktops will have been ordered from the supplier if we don't have them in stock.
Cutting and Finishing
Once we receive the worktops we use our state-of-the-art equipment to cut out your worktops to your exact measurements so that they fit perfectly. Our years of experience are invaluable when it comes to precision quartz and granite cutting.
Installation
Then comes the final stage, the installation! We expertly install your worktops using high-quality glues and sealants for the perfect finish. We have honed our skills over the years, work with minimum fuss and mess, and treat your home with the utmost respect. We always appreciate the odd cuppa, and maybe a biscuit just to keep us running smoothly :).
Once your worktops are installed we will ask you to inspect them to ensure you are 100% satisfied with the quality of our workmanship. Then it's over to you to finish off the decorating to get your dream kitchen.
We love to receive photos of people's finished kitchens to add to our gallery and to share on social media and appreciate it when our clients leave us glowing reviews on Google, Facebook or directly to us. It makes our job so worthwhile and makes us happy 🙂
The kitchen in the images is for a member of our marketing team, the worktops are Fugen Stone Carrara and the features include upstands, drainer grooves and an undermount sink. The island is a great focal point that adds seating and storage as well as the all-important wine fridge!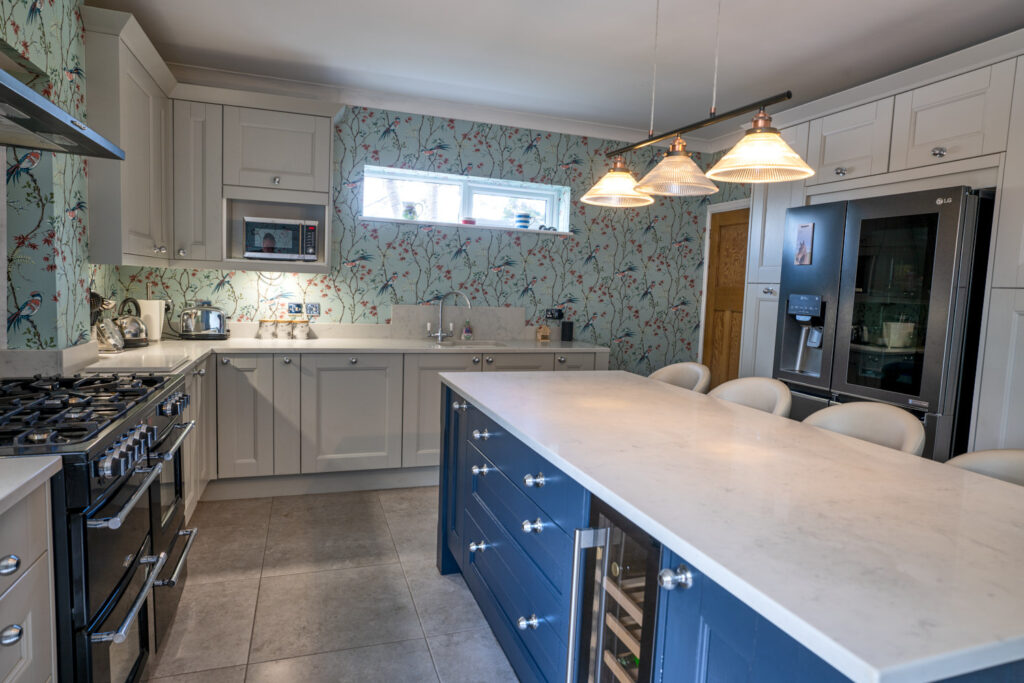 So you can see why C&J are more than worktop installers.
Contact us today on 01405 806300 or
sales@marble-granite-quartz.com and make your dream kitchen a reality.