Quartz vs Marble.
Marble is seen as the epitome of luxury when it comes to kitchen worktops, and it's easy to see why. Not only is it a natural product that is beautiful to look at but each slab has unique characteristics that will give your home the wow factor.
Most of the marble we see in homes is mined in Italy, China, Spain and India, and each of these countries produce slightly different colours of marble. These colours range from solid white and black to shades of yellow, grey, green and rose.
So why is quartz better than marble?
Pros and cons of marble
The main selling factor for marble is undoubtedly its elegant and soft look, but this is outweighed by the porous quality. This makes marble easy to stain, scratch or chip, so it's not ideal for high-traffic areas such as kitchens. It can also be damaged by acidic foods such as lemons, as well as oil and grease. Keeping your worktop regularly sealed can help prevent this but you must ensure that it's done by a professional for a perfect finish.
Marble is not a strong material so is susceptible to cracking, therefore you must be extra careful with support under the worktops.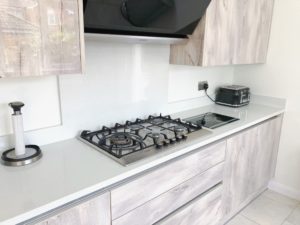 What's the alternative?
We have compiled a collection of our quartz worktops that look like marble but have the strength and practicality of manufactured quartz. The colour range includes all the shades you would expect to be available in marble. View the range here – Marble-effect Quartz
Quartz worktops are a much better choice for kitchens as they are stain, chip and scratch resistant and come with a long manufacturer's guarantee. They are easier to work with so installation costs are less, and the design possibilities are greater than with marble, which is prone to splitting and cracking in fabrication. Transporting it also has its issues, especially if it's a long slab.
In conclusion…
We really wouldn't recommend marble worktops, but if you want marble for baking and breadmaking as it is cool to the touch and produces great results we would suggest a marble slab on top of your quartz worktops. A contrasting colour would work beautifully.
Contact us today to discuss your requirements, we can send out samples to make sure you get exactly the worktop you want or you can visit our showroom in Goole to see the full range available.
Call 01405 806300 or email info@cjstonemasonry.co.uk