2023 has been an exciting year where kitchen worktop trends are concerned. We've seen a rise in sales for white and light-coloured quartz, and people are starting to get a bit more adventurous with their homes. Two-tone kitchens are popular, with different worktops that complement each other, or coordinated units. If you want to keep your kitchen on-trend read on…
Quartz worktops
What's so special about quartz when it comes to kitchens? It's super hardwearing, is scratch and stain resistant and can withstand whatever you throw at it (not literally!). whether you have young children who like to help you with the cooking, teenagers who like to experiment with weird and wonderful recipes, or just have a busy lifestyle that means you need a surface that's easy to keep clean, quartz is ideal. Here are just a few reasons why quartz is so popular for homeowners:-
Growing in popularity: Quartz worktops have been gaining significant popularity in recent years due to their durability, low maintenance requirements, and aesthetic appeal.
Colour variety: Quartz manufacturers offer a vast array of colours and patterns, including marble-like veining and solid colours, to cater to a wide range of customer preferences.
Large slabs: There is a rising demand for larger quartz slabs to minimize the number of seams on the worktop surface, resulting in a more seamless and visually appealing appearance.
Thin profiles: Thinner quartz worktops, such as 1cm or 2cm thickness, are becoming more popular. They provide a sleek and contemporary look while also reducing material costs.
Anti-Microbial Properties: Some quartz manufacturers are incorporating anti-microbial additives into their products, making the worktops more hygienic and resistant to bacteria and mould growth.
See our full range of quartz worktops here – Quartz Worktops
granite worktops
Granite has seen a rise in demand in the last few years, it is seen as more of a luxury item and is often chosen by more mature customers who don't have small children in the home. While granite is still hardwearing and easy-clean, it requires sealing to keep it looking and performing at its best. Here are some reasons why people choose granite…
Unique patterns: Granite worktops are known for their natural beauty and unique patterns. Customers are increasingly seeking out exotic granite varieties with striking veining, patterns, and colour combinations.
Honed and Leathered Finishes: While polished finishes have traditionally been popular, honed and leathered finishes are gaining traction. These finishes provide a more matte appearance, are less prone to showing fingerprints, and add a touch of sophistication.
Bookmatching: Bookmatching is a technique where adjacent slabs are cut and polished to create a mirror-image effect, resulting in stunning symmetrical patterns. This technique is increasingly being used with high-end granite worktops.
Sustainability: With a growing focus on environmental sustainability, there is a trend towards using domestically sourced and responsibly quarried granite. Customers are showing interest in granite slabs with certifications that verify ethical and sustainable practices.
Edge Profiles: Apart from the traditional pencil and bullnose edges, there is a rising interest in more unique and customized edge profiles for granite worktops. Ogee, bevelled, and waterfall edges are some popular options.
See our full Granite Range here – Granite Worktops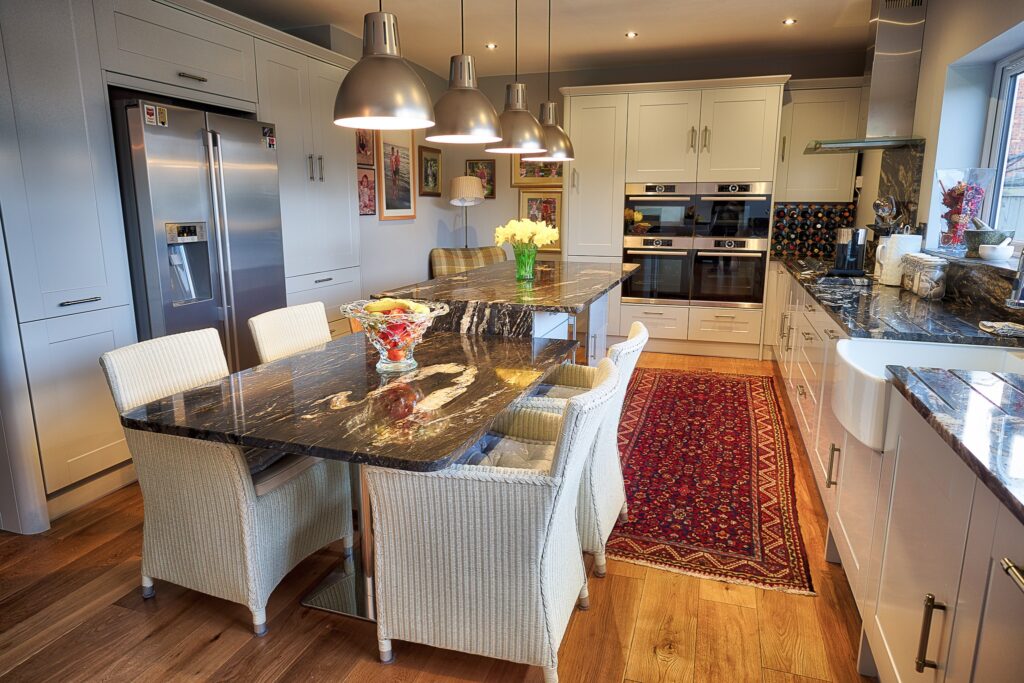 If you would like to find out more or discuss your requirements please give us a call or visit our showroom in Goole.
Contact us today on 01405 806300 or
sales@marble-granite-quartz.com and make your dream kitchen a reality.