A decade of high-quality granite and quartz worktops!
2018 is a very special year for us at C&J Stonemasonry as we celebrate 10 years in business. We have seen our workload increase phenomenally since we fitted our first worktops all those years ago. It has been such a pleasure to help so many people achieve their dream kitchens and bathrooms.
We've travelled many miles
Our trusty vans have taken us up and down the country, from Fort William to Cornwall, South Wales to the North East of England, Kent to Cumbria, and hundreds of places in between. We have recently replaced our Mercedes Sprinter (with a whopping 360,000 miles on the clock) with a brand new Renault Master. Let's hope it proves to be just as reliable!
A little trip to France!
Our installations haven't been limited to the UK, we were asked to install worktops in a house in France. Such is our reputation that the customer was prepared to pay our airfare and accommodation! It just goes to show how important it is to do an outstanding job, who knows where it will take you! We've worked hard to get our 5* rating from The Guild of Master Craftsmen, and are very proud of it.
Commercial work
Over the years we have worked not only in homes across the country but in many commercial establishments, from pubs and gin bars to hotels and Ice-cream parlours. We've worked with house builders to fit worktops in new-builds, transformed estate agents offices, an Indian restaurant and a shoe-shine stand, and help bring a touch of class to hotel bathrooms in York. We work closely with other trades-people to ensure things go smoothly for everyone involved. See more here.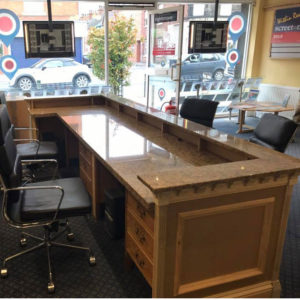 How times have changed
When we first started C&J the trends were very different than they are today. Our most popular worktops then were Star Galaxy and Absolute Black Granite, and Black Mirror and White Mirror Quartz. Then came the trend for coloured worktops – everything from hot pink, purple and orange to bright blues and greens. While they looked stunning at the time we fear they may not have aged so well.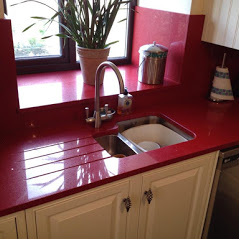 Many trends in kitchen decor have come and gone over the last 10 years, including dramatic monochrome, shaker style and ultra-modern stainless steel, but the classic styles will always be around. These include country-style and natural, with variations on these themes to keep things fresh.
What's current in 2018?
This year we've seen an increase in natural worktops, as well as more industrial finishes like concrete effect quartz in different shades. The bright colours have all but disappeared as people are opting for colours that will stand the test of time. Neutral colours seem to be the favourite right now, with accents added by clever use of accessories. It's even possible to 'bling' up your kitchen with rose gold and copper taps and waste traps, or to coordinate your sink with your worktop!