Last week two of our office team, Sharon and John, had the pleasure of visiting the Cosentino factory in Almeria, Spain. Cosentino is one of the world's market leaders in technologically advanced stone surfaces, and their factory tours are much coveted by everyone in the industry.
They had a whirlwind 3 days visiting the factory, warehouse and quarry, which are all equally impressive, and huge! They saw row upon row of quartz and granite slabs, just waiting to be sent around the world to be made into worktops, tiles, fireplaces and many other items.
They had an amazing time and were made to feel very welcome.  The Cosentino factory is enormous and is very clean and modern, despite all the dust created by the process of cutting and polishing the slabs.  Though they were not allowed to take photo's inside the factory, they took some in the warehouse where most of the machines are robots, with very few people around.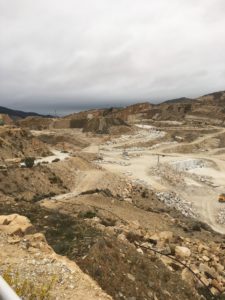 The marble quarry has been mined since the 1930s and it is massive.  As Sharon said, "Words cannot describe the scale of this place".  At the end, the President of Cosentino came into the auditorium and gave a question and answer session for 15 minutes.  They found the whole experience overwhelming and exciting.