Summer is drawing to a close and the nights are starting to gradually get darker, so it's the perfect time to think about doing some home renovations.
Where to start…
As the kitchen is often the heart of the home that's a good place to start. There are plenty of ways to make improvements and brighten up your room, and they don't need to cost a fortune. Traditionally a new kitchen can run into tens of thousands of pounds, but with some careful planning and designing, you can do it for much less. Creating a new kitchen on a budget doesn't have to be a chore, there are plenty of ways to save money by reusing what you already have. Sites like Freegle and local buying and selling sites can be a haven for bargain hunters. Even the good old car boot can throw up some real treasures.
Clear the clutter
The first thing you should do is clear out the clutter and have a good clean, then you have the perfect starting point for planning your new kitchen. Get rid of any appliances and gadgets you haven't used for the last few years or are broken. That should free up some space and help you see what needs doing.
Pick your theme
Next, you need to decide on a colour scheme and/or theme for your kitchen. Do you like the modern look or yearn for something more traditional? Maybe the industrial look suits you better, or the farmhouse kitchen? Whatever style you opt for, head for the internet, or home style magazines, and start collecting ideas. Pinterest is the best place to start and is bursting with ideas for all kinds of kitchens. Create boards with all the ideas you like, refining as you go along – but be careful, it's easy to get carried away. Visit decorating stores to get paint samples and tester pots and let your imagination run wild. At this stage, it's easy to change your mind so don't panic if you don't like the colours you've chosen. Just paint over them!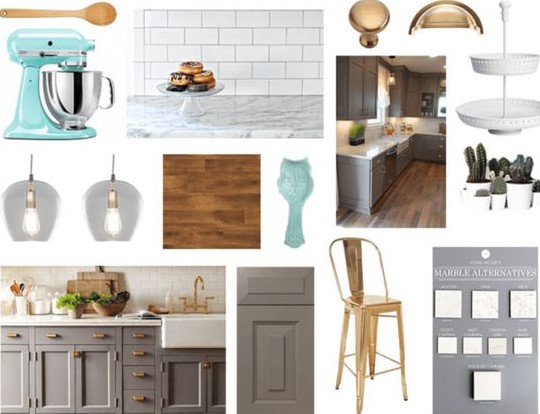 Once you've decided on a theme it's time to think about the kitchen furniture. If you're on a budget the best option is to keep the cupboards but replace the worktops. If you have laminate or wood worktops the can start to look worn and dated quite quickly, often peeling at the edges or suffering from scratches, gouges and burn marks.
Easy-care worktops
Quartz worktops are an ideal replacement, offering scratch and stain resistant properties as well as being very hard-wearing and easy to clean. They come in a huge variety of patterns and colours, so there's something for every kitchen, whatever style you choose.
Fitting quartz worktops will not only give your kitchen the wow factor and make you the envy of your friends, but they also add value to your home. They will retain their good looks for many years, and come with a long manufacturers warranty, so are an investment that pays dividends.
Take a look at the vast range of quartz worktops we have on offer; in the unlikely event that you don't see something you like, give us a call and we'll do our best to help you. We will even send out samples to make sure you're happy with your choice. Once you've selected your new worktop we'll arrange everything. All you need to do is put the kettle on 🙂
Finishing touches
Now comes the fun part – the finishing touches. Tiles, paint, curtains or blinds, flooring…again depending on your budget you could check out your local carpet shops for offcuts of lino, especially handy if you've got a small kitchen. There are no limits here, just go for it and indulge your inner interior designer.
Now you are the proud owner of your dream kitchen, so sit back and enjoy it. Invite your friends round to show it off, have a kitchen party or just indulge in some family time in the heart of your home!
Contact us on 01405 806300 or sales@marble-granite-quartz.com to see how we can help your kitchen dreams come true!