With the nation's obsession with home improvements looking to carry on into the second half of 2021, we thought we'd bring you a round-up of the most popular kitchen trends of the year
Statement worktops
Not for the faint-hearted, statement worktops are super popular at the moment. They add a touch of drama to a kitchen, especially if you have a large slab on an island unit or peninsula. We have lots of granite and quartz worktops that will give your kitchen the WOW factor, and more. In the last 6 months, we've seen people experimenting more with their choice of worktop and it's paid off massively.
Two tone kitchens
This trend has been around for a while now and has proven to be very popular. We work with a lot of kitchen companies who have seen an increase in customers opting for different coloured units. A simple worktop works best, or you could opt for different coloured worktops to compliment the units.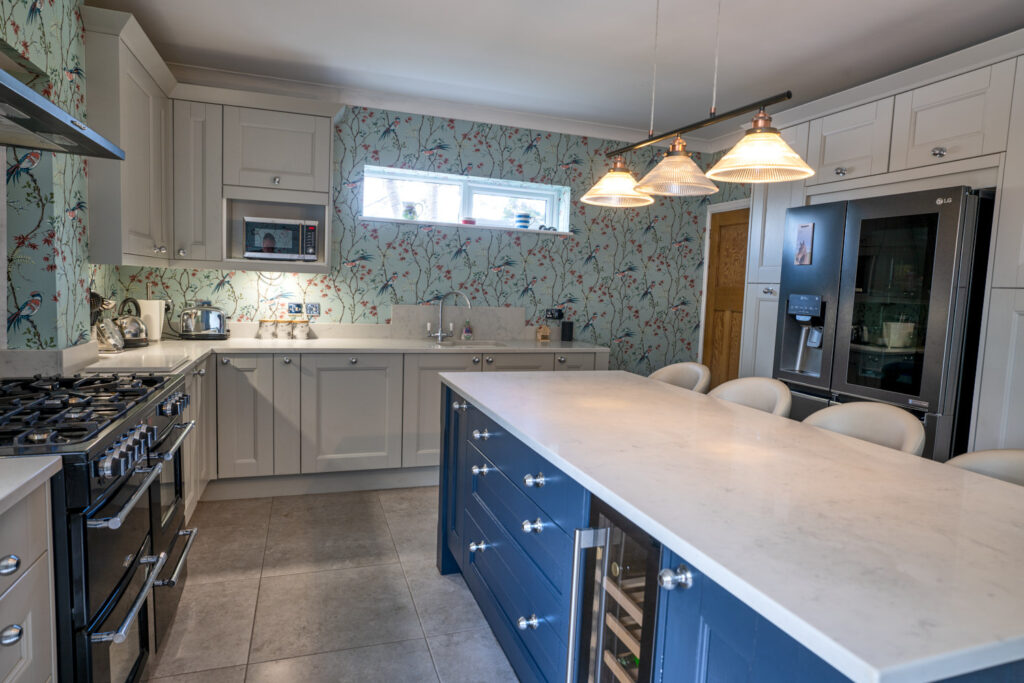 Dining Islands
The kitchen is thought of as the centre of family life and adding a dining island makes it even more practical. Not everyone wants a breakfast bar so adding a dropped worktop at table height is an ideal option. It encourages a more social use of the space and gives important extra workspace. In this kitchen we extended the worktop using a waterfall feature to give a seamless finish, it gives a slightly more formal eating area which looks great.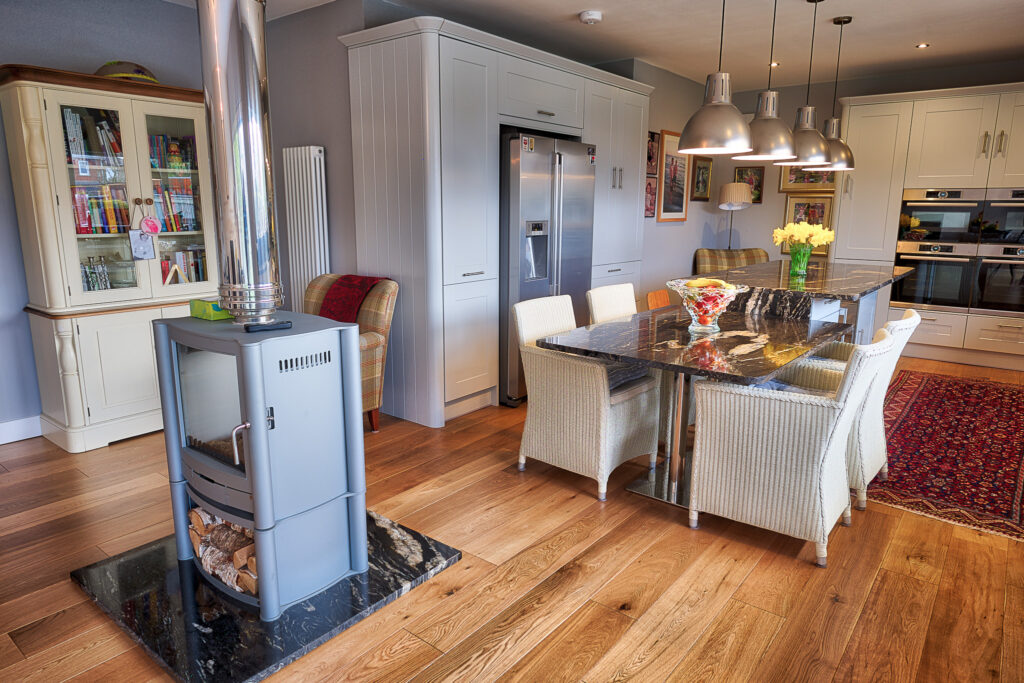 Veined Worktops
Marble used to be a popular choice for kitchen worktops and was seen as a luxury option, but with the advances in worktop technology, there are better options available. Marble can be difficult to work with and is quite fragile so is not ideally suited to high use areas such as kitchens. It also needs regular maintenance to keep it looking its best. If you want a worktop that looks like marble we offer a range of quartz worktops that look like marble but are virtually maintenance-free and scratch and stain-resistant. View the range here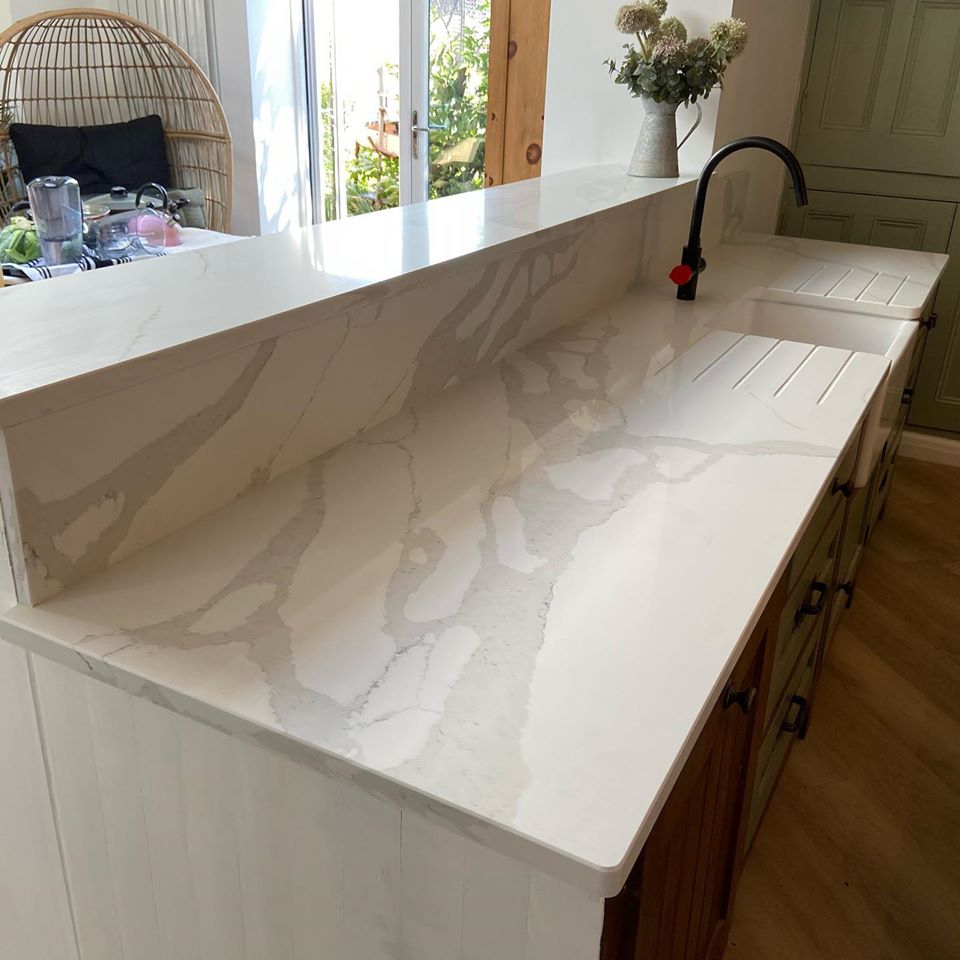 Curved Surfaces
More kitchen suppliers are offering curved and shaped units in their ranges and we can make worktops to follow the shape of them whether they're round or angled. The island unit below has beautiful rounded edges on all 4 corners which we matched perfectly. Our state-of-the-art equipment allows us to cut all manner of shapes in our worktops, giving you the kitchen of your dreams.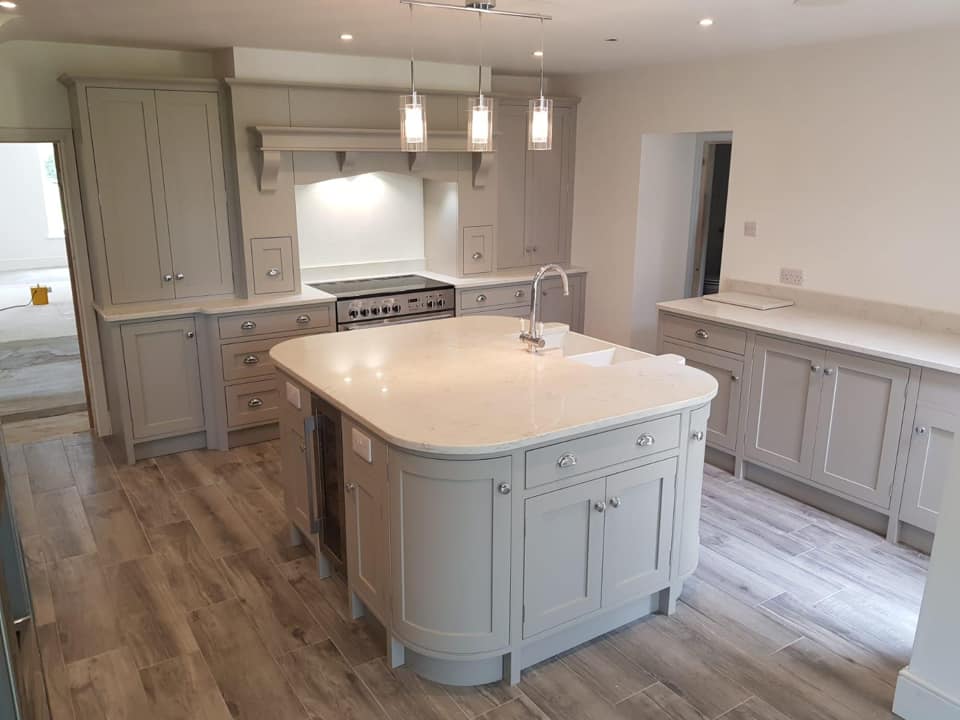 Dark Surfaces
Although we install a lot of lighter worktops we are increasingly getting asked for darker options. There are plenty of interesting dark quartz and granite worktops to choose from with features like sparkle chips and veining in greys and blacks. Darker worktops add an accent to lighter cabinets and can make a kitchen feel warm and inviting. Combined with a statement sink and tap you have a really stunning kitchen that you'll want to show off.
Colour
Coloured units in the kitchen are another design trend that looks set to last. From pale greys and blues to more vibrant colours, we see them all. Plain or simple patterns on the worktop are work best with coloured cabinets.
We love to receive photos of peoples finished kitchens to add to our gallery and to share on social media, and appreciate it when our clients leave us glowing reviews on Google, Facebook or directly to us. It makes our job so worthwhile and makes us happy 🙂
If you would like more information about our worktops we are always happy to help. We can advise on worktop choice, features and even send out samples if you can't visit our showroom in Goole.
Contact us today on 01405 806300 or
sales@marble-granite-quartz.com and make your dream kitchen a reality.