As 2022 draws closer we take a look at the kitchen design trends that are set to hit our homes. The focus is on sustainability, reusing things in unusual ways and nature, along with touches of bold colours and patterns.
Bold units
We've seen a huge increase in the use of bold, dark colours in the kitchen for some time, and it doesn't look like it's going to stop anytime soon. Dark, dramatic colours look stunning next to a crisp white granite or quartz worktop, or team a patterned granite with a funky colour for a fun look. People are definitely starting to experiment more with their use of colour to great effect.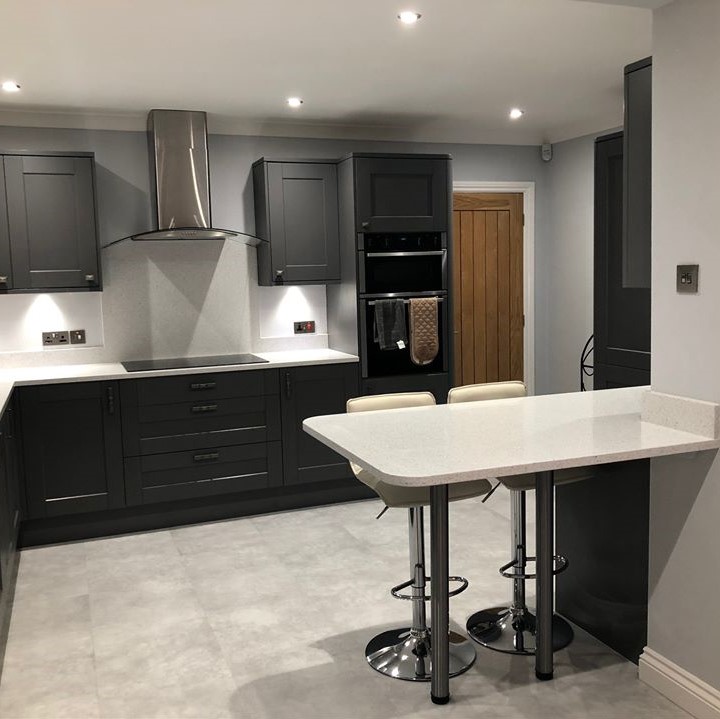 Dramatic Wallpaper
Wallpaper in the kitchen has been viewed as old-fashioned, but the retro scene is growing rapidly and designers have been busy. There are lots of wallpapers on the market that are specifically designed for kitchens.
We are seeing homeowners becoming braver with their design choices and using wallpaper to counter the minimalism of white cupboards and neutral worktops.

Don't be afraid of using wallpaper in the kitchen, due to its humidity make sure you choose non-woven paper and ensure you have good ventilation to keep your wallpaper in great condition.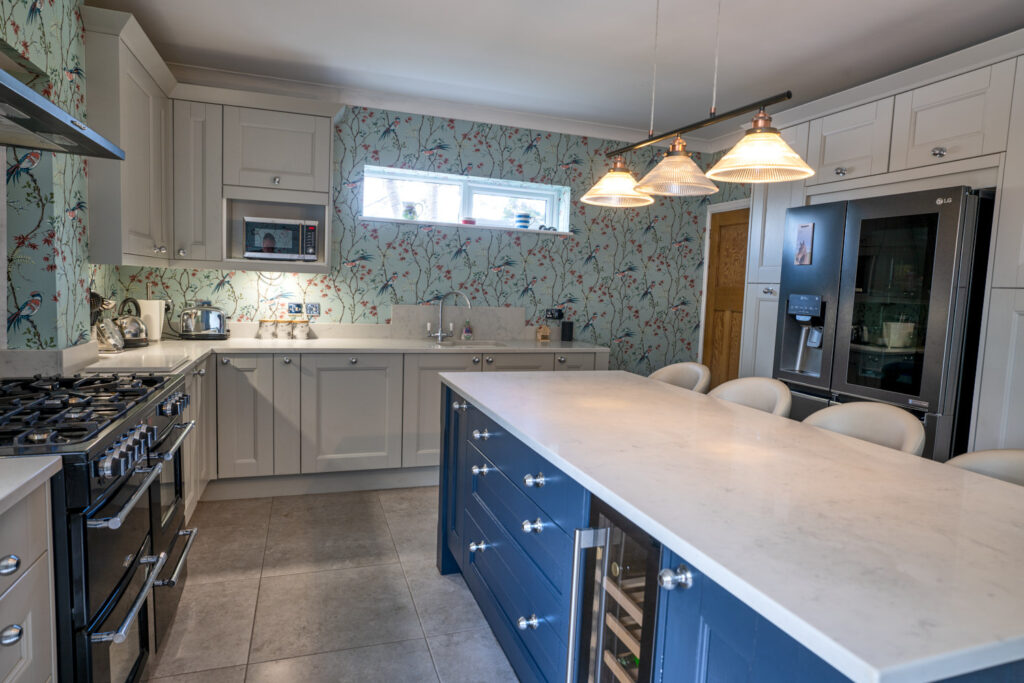 Metallic Accents
There has been an increase in the availability of metallic kitchen accessories, manufacturers are constantly releasing new, innovative products to add a touch of gold, copper or brass to their kitchen. If you want something that stands out, go for a metallic sink and tap combination.
Marble-effect Worktops
Marble used to be a popular choice for kitchen worktops, often seen as a luxury option, but with the advances in worktop technology, there are much better options available. Marble can be difficult to work with and is quite fragile so is not ideally suited to high use areas such as kitchens. It also needs regular maintenance to keep it looking its best. If you want a worktop that looks like marble we offer a range of quartz worktops that look like marble but are virtually maintenance-free and scratch and stain-resistant. View the range here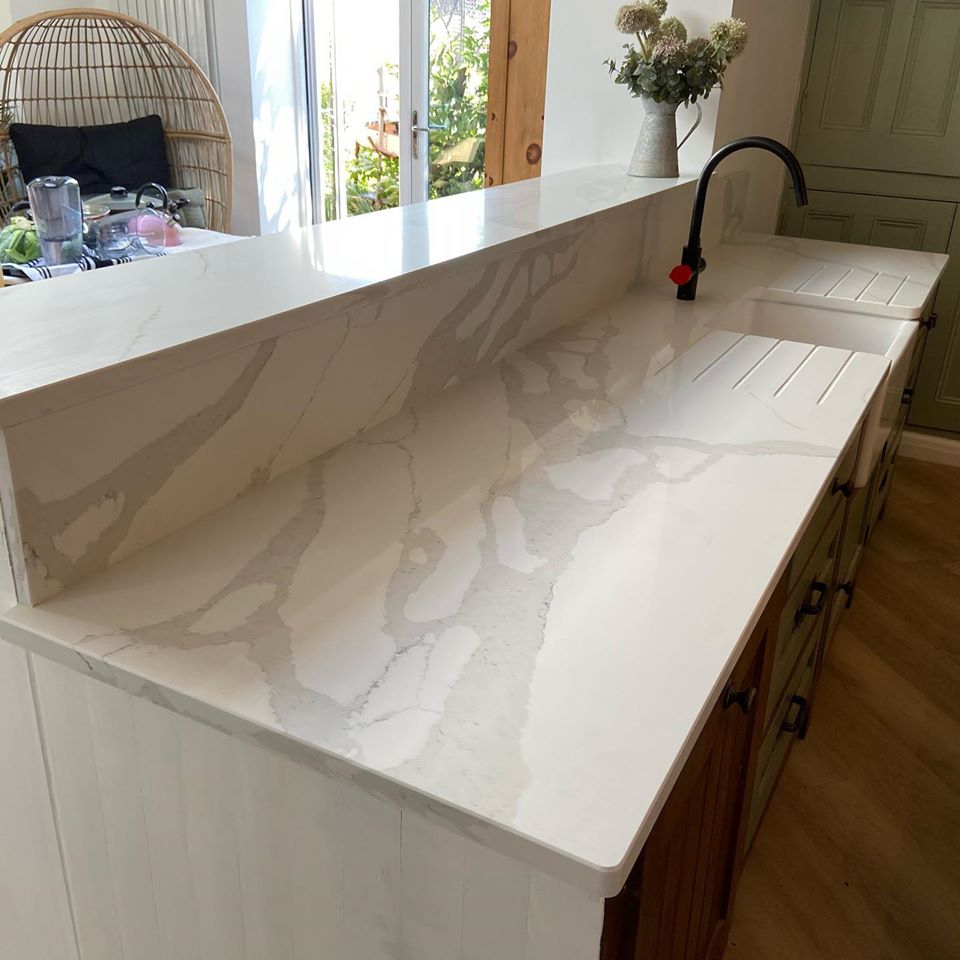 Minimalist Design
Minimalist kitchens will see a surge in popularity in 2022, so if you hate clutter then next year is for you.
Straight lines, fuss-free details and clean, polished lines create kitchens that offer a serene, relaxing retreat from our busy lives.
Sustainability – Improve don't remove!
Reduce, reuse and recycle will continue to be major buzzwords in our lives next year, and beyond, and it's something we wholeheartedly embrace. If you are looking at a new kitchen next year it might be worth just replacing your worktops. Often your units are in good shape and don't need to be replaced. A new worktop, and new doors or a lick of paint will give your kitchen a new lease of life without the cost and upheaval of having a completely new kitchen installed. Better for your pocket and the environment.
Keep it natural
Wood has seen a resurgence in kitchens across the country, wooden cupboards combine beautifully with our stone worktops to create a natural look. Use wood from a sustainable source and it will last for years, only getting better with time.
If the thought of a wood kitchen is too much for you, consider wooden accents like plate racks and flooring.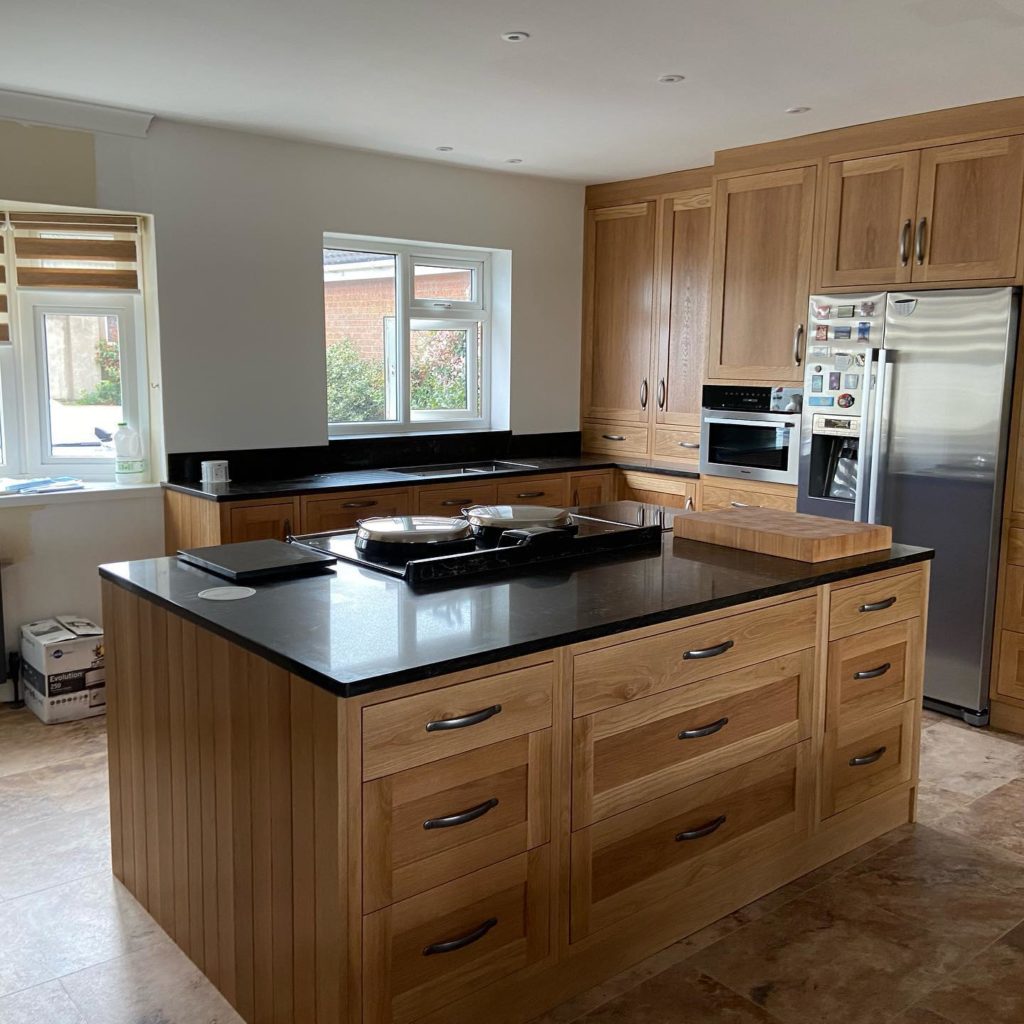 We love to receive photos of peoples finished kitchens to add to our gallery and to share on social media, and appreciate it when our clients leave us glowing reviews on Google, Facebook or directly to us. It makes our job so worthwhile and makes us happy 🙂
If you would like more information about our worktops we are always happy to help. We can advise on worktop choice, features and even send out samples if you can't visit our showroom in Goole.
Contact us today on 01405 806300 or
sales@marble-granite-quartz.com and make your dream kitchen a reality.