Granite worktops look elegant in any kitchen. They are, however, more complex to install and require special treatment.
Hiring a professional to install your granite worktops ensures you end up with a perfect finish. In case you're curious about how granite worktops are fitted, here is our guide.
Choosing your Granite Worktop
Choosing the right colour and design of granite to complement your kitchen design can be daunting as there are so many to choose from. We will do everything to help you get the correct one for your kitchen. We can send samples out when you have requested a quote, or you can visit our showroom to see the range in full.
We ask you to complete a quote form on our website so we can provide a quote based on your initial measurements. We can provide quotes on rough drawings and kitchen plans. Once you accept the quote we can book the template prior to installation.
Templating
We can, in some cases, template over existing worktops if you are having worktop replacements rather than a new kitchen. This helps to minimise the time that you are without a worktop. Our quotes are subject to change if the requirements differ from any information provided.
It is preferable though, that cabinets are cut out and sinks are in position for us to template accurately. We use plastic Correx boards for our templates to ensure we can physically see what we are creating, and we recycle the Correx afterwards at a local facility.
Granite, more than quartz, requires the base units to be secure and level because it is generally more fragile than quartz. The thickness of the slabs plays a big part in the strength of both granite and quartz, as do hob and sink cutouts and placement of taps and any pop-up sockets required.
A large sink and tap wouldn't fit well in a 590 – 600mm deep worktop, especially if you require upstands, so remember to take this into account when selecting fittings.
At this point, you will need to decide what edging you would prefer and how much overhang is required. Adding a wider overhang can create a breakfast bar, but if you want anything over 12″/300mm it will require additional brackets for added stability and strength.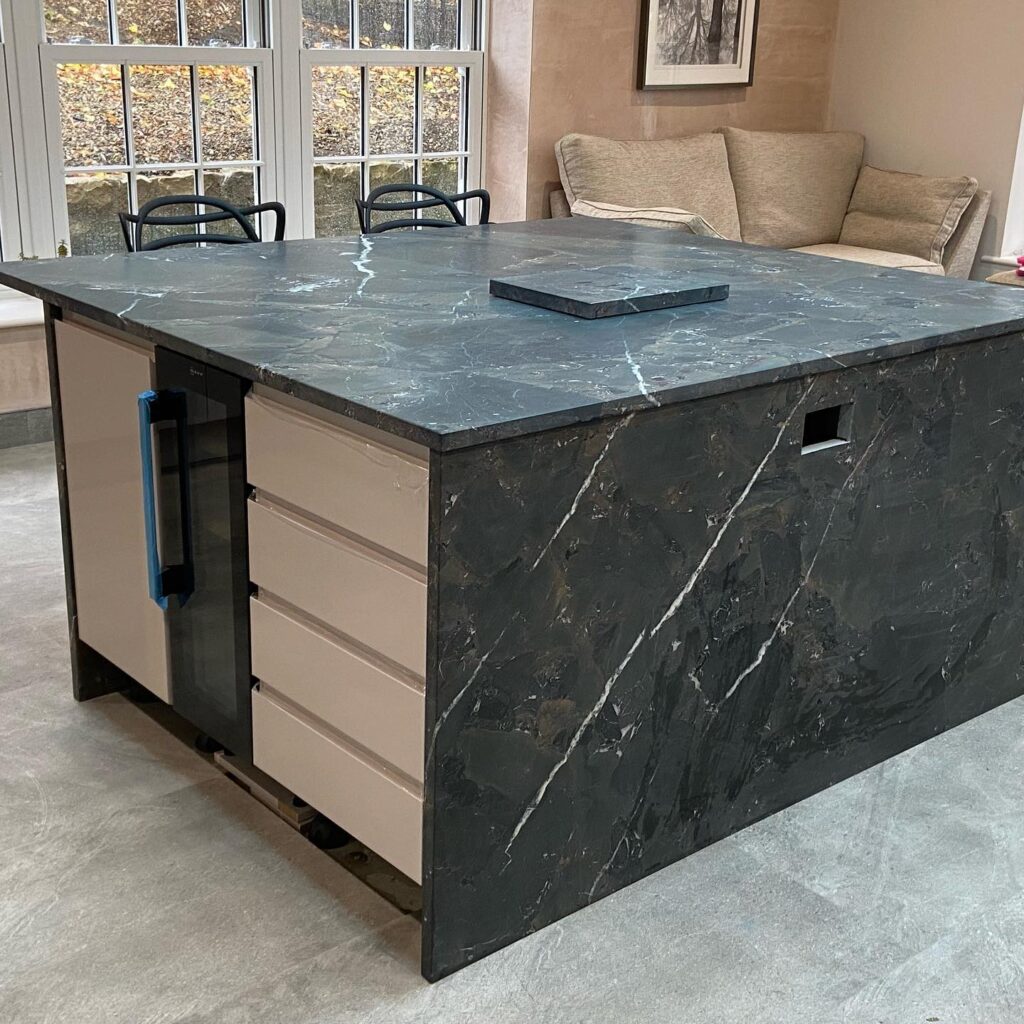 If you require a splashback behind the sink area or hob, windowsills or any extras such as rounded corners and drainer grooves, you will need to add these to the quote form to ensure you get the correct price for the job.
During templating we will let you know what is needed prior to the installation. If these are not ready and cause delay or cancellation there will be an extra charge.
Supporting Granite Worktops
Granite is a heavy material, so extra supports may be required such as 2 x 1 plywood around the tops of the cabinets to support the weight. We will make suggestions during templating for the best options before we return to install the worktops.
Fitting granite yourself is not recommended. If you only want us to supply the granite we would require a disclaimer to be signed upon delivery stating that the slab was in perfect condition.
Attaching Granite Worktops
Granite worktops are extremely heavy so it is usual to have two people to handle them safely. Each slab will be placed over the cupboards and manoeuvred carefully into place. Adjoining slabs must be pushed together tightly to create tight seams.
Getting the worktops in place requires lifting them to stick them to the units or they are sealed from underneath. We don't generally sit them on plywood, they are situated directly on the cupboard carcasses. At this point, we glue any joints with colour-coded resin using our specialist machinery to level and glue where possible.
We will then add any splashback and windowsills and cut upstands to size. These are fixed with silicone and sealed to the worktop. We use low mod silicone as granite is a natural product, we don't caulk between upstands and walls – that is down to the customer.
We will apply a chemical sealant if required.
Quality of granite
Our granite is all high quality and comes from suppliers that we trust. Granite is a natural product and as such, it is impossible to guarantee the outcome in any scenario. The makeup and backgrounds of natural slabs vary depending on the minerals and rocks they are made up of.
If you are looking at granite for your kitchen we would urge you to look at the full slab photos from the supplier or the actual slabs to be used, as they are all unique.
When it comes to granite, what you see is what you get. There is no uniformity like you would get from quartz. That's what makes it so special!
There are poor quality granites around, with lots of imperfections, which is why we always recommend that you choose carefully and view the slabs before choosing.
Speak to us if you have any questions or need help choosing the perfect worktop for your home.
Contact us today on 01405 806300 or
sales@marble-granite-quartz.com and make your dream kitchen a reality.