2022 has been a year of bold and dramatic designs, but 2023 is looking to be more serene and calming, with neutral colours and understated elegance. Sustainability is high on the agenda for many of us; repurposing and reusing things in unusual ways, looking to nature for inspiration, and bringing the outside in are all featured heavily in interior design this year.
Calming kitchens
Embrace the zen when planning a new kitchen, with natural colours and patterns. Make use of nature in your designs, taking your inspiration from mother nature. Use organic materials such as wood and stone for flooring and worktops, to create an indoor oasis of calm. Our stone worktops come in a huge variety of neutral shades and patterns so whatever you're looking for we can help.
Keep it clutter-free with plenty of storage for an easy-to-clean space that feels relaxed.
open shelving
With so many pretty crockery styles around it's not surprising that people are keen to show them off. Open-plan shelving is the answer if you want to have your pretty plates on show. We can make shelves in quartz to match or complement your worktops for a stylish look.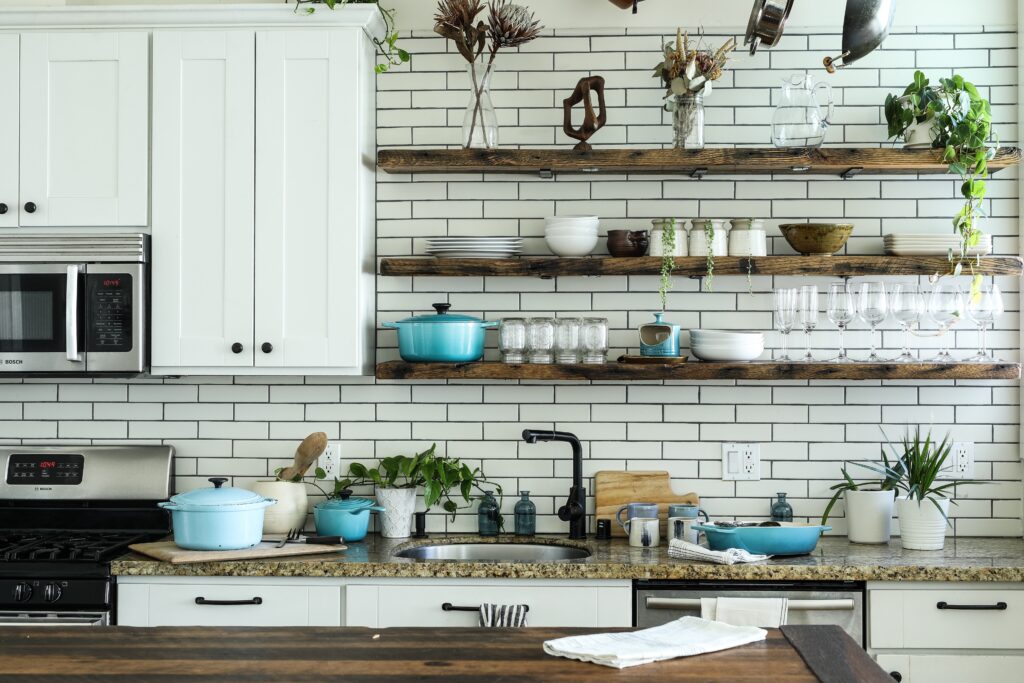 Marble-effect Worktops
Marble used to be a popular choice for kitchen worktops, often seen as a luxury option, but with the advances in worktop technology, there are much better options available. Marble can be difficult to work with and is quite fragile so is not ideally suited to high-use areas such as kitchens. It also needs regular maintenance to keep it looking its best. If you want a worktop that looks like marble we offer a range of quartz worktops that look like marble but are virtually maintenance-free and scratch and stain-resistant. View the range here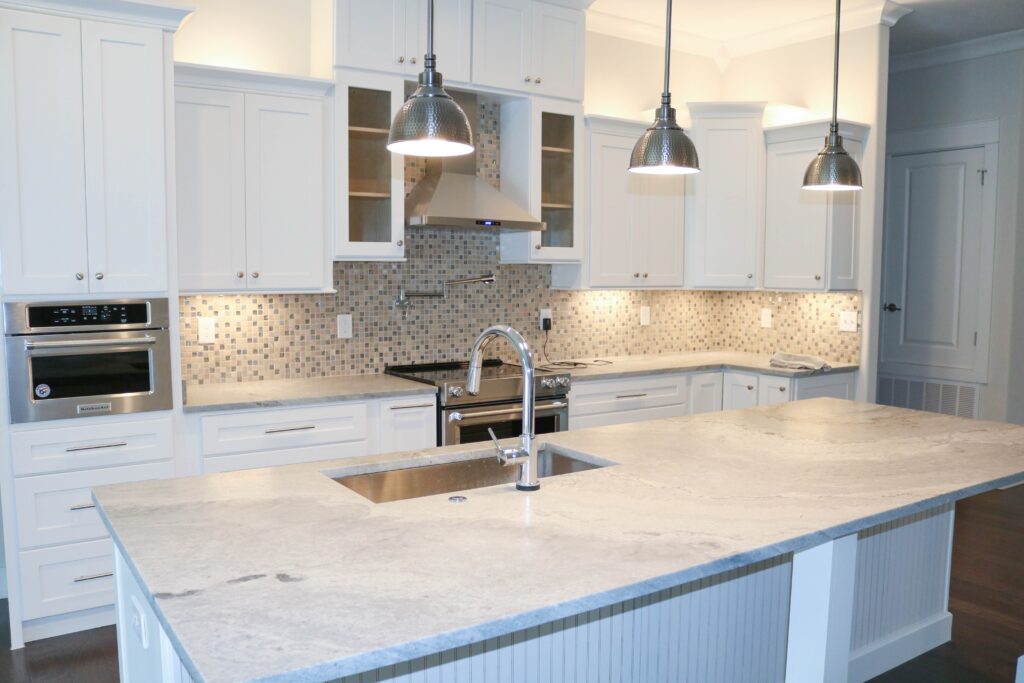 Two-tone
Why have one colour when you can have 2? This year we are going to see a return of the two-tone kitchen, either in the units or worktops, or both. It's popular to have the units in one colour and the island in another complementary shade. Light and dark work well together, or black and white for a monochrome look.
If you're unsure about how to make this work successfully get in touch, we can advise on colours and patterns.
Practical and stylish worktops
Quartz is the ultimate worktop when it comes to practicality, being stain and scratch resistant, and heatproof. It requires minimum care, just a wipe with a soft cloth and warm soapy water. It won't peel like laminates and doesn't warp like wood can, and will stay looking as good as new for many years.
Our suppliers have a huge range of styles and colours to choose from, at a variety of prices to suit all budgets. Some even offer sustainable options, using recycled glass and other materials.
Match your worktop and cabinets for a streamlined look, or choose contrasting colours for a modern look.
Finally…
Other design features that are set to be big in 2023 are supersized sinks, downdraft extractors, statement splashback and smart storage. Anything that makes cooking more pleasurable and less of a chore is good news for the new year.
We love to receive photos of people's finished kitchens to add to our gallery and to share on social media and appreciate it when our clients leave us glowing reviews on Google, Facebook or directly to us. It makes our job so worthwhile and makes us happy 🙂
If you would like more information about our worktops we are always happy to help. We can advise on worktop choice and features, and even send out samples if you can't visit our showroom in Goole.
Contact us today on 01405 806300 or
sales@marble-granite-quartz.com and make your dream kitchen a reality.