Life can be frantic at times, and we feel ourselves getting stressed and anxious, especially when it comes to food preparation. A cramped, dark kitchen full of sharp edges, nowhere to put anything, and an outdated design isn't great for a relaxed cooking experience.
With our help, you can have a calm, stress-free kitchen that you'll want to cook, bake and entertain in more than you thought possible.
Neutral Colours
A calming kitchen starts with the colour. Steer clear of bright colours, these are overstimulating and can make a room seem 'busy'. Instead, look for neutral colours like cream, stone, sage green or pale grey but make sure they are warm tones or you could end up with a cold colour palette.
Easy clean surfaces
No one wants to spend lots of time and money keeping their kitchen looking pristine, so opt for surfaces that are easy to maintain. Stone worksurfaces are the ideal choice for your calming kitchen as they are practical and easy to clean, and are available in a wide range of natural shades. Take a look at our quartz ranges to see what is available.
natural materials
Introducing natural materials into your kitchen will help create a calm space. Wood, wicker, cotton, hessian and linen are all perfect to use for accents such as rugs, chair backs, blinds and lighting. Don't overdo it though, just a few bits here and there will give the best effect.
Tickle the senses
When it comes to the senses, smell is the most important in the kitchen. Some smells are good, like freshly brewed coffee or baked bread, but some food smells can be overpowering such as garlic or fish, so investing in a good extractor is important. We offer pop-up extractors that hide away when not in use. Perfect for keeping things clutter and stress-free.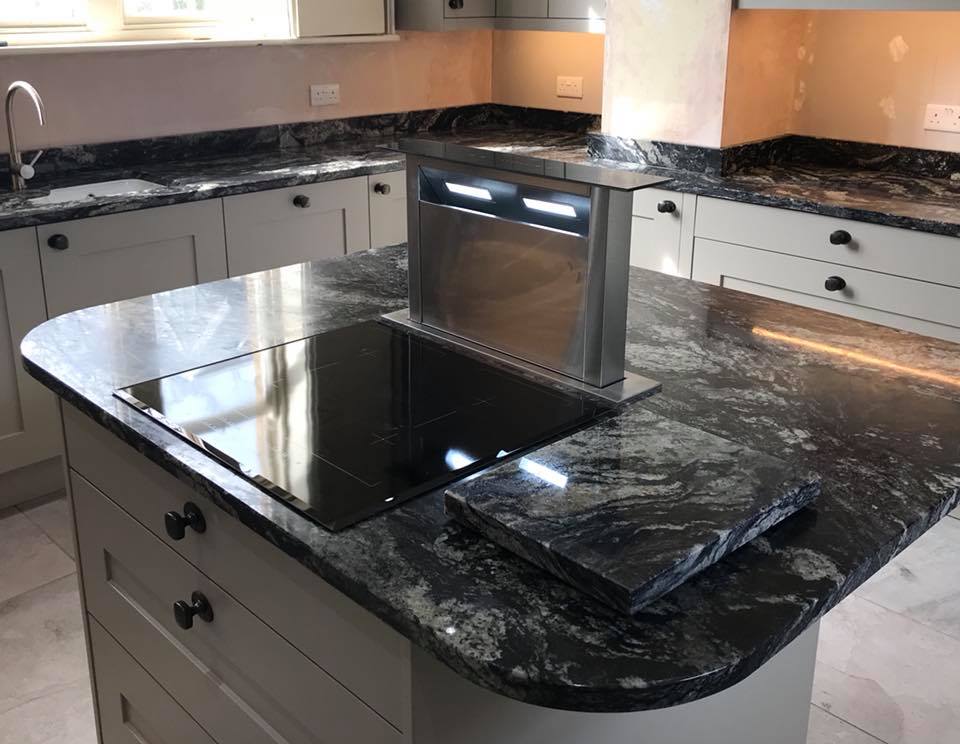 Sound helps us to relax, so invest in a smart speaker so you can play your favourite tunes while crafting your culinary masterpieces. It can also create shopping lists, set timers and give recipe advice, helping take the strain out of meal prep.
Use a reputable installer
Home renovations can be very stressful, so make sure you use an installer that has a reputation for reliability, high-quality work and plenty of recommendations and 5-star reviews. At C&J we are very proud of our 5-star rating with the Guild of Master Craftsmen, our reputation is everything and means that we're not happy until you are. We always turn up when we say we will, carry out the job to a very high standard, and tidy up afterwards leaving things just as we found them. This means you don't have to worry about problems down the line, because we do things right the first time.
In the unlikely event that you manage to damage your worktop, or even want to make changes after a while, we will come and sort it out for you.
Bring the outside in
Nothing makes a room feel relaxed like a touch of nature, so incorporate an element of the natural world into your new kitchen. Plants are the obvious choice, there are plenty of kitchen-friendly plants available, and there are nature-inspired wallpapers or fabrics that will make you feel connected to the outside world. Be creative and check out Pinterest for ideas.
Hopefully, we've given you plenty of ideas for creating your own calming kitchen. If you'd like to discuss how our quartz worktops can help you on your journey to your dream, calm kitchen, get in touch
Contact us on 01405 806300 or sales@marble-granite-quartz.com to see how we can help your kitchen dreams come true!