As we head into spring, and warmer and (hopefully) sunnier days, it's the perfect time to rethink your kitchen decor. The new season can often highlight how dated or tired your kitchen is looking, so why not extend your spring clean to be a spring overhaul?
To make things easier for you we've compiled a list of spring trends that will inspire you to make some changes.
We believe that the kitchen is the most important room in the home, even more so if you have a family, and it needs to be comfortable, pleasant to cook in, well laid out and good-looking. Bear this in mind when you start to plan, and if you're not confident about your design skills don't be afraid to call in the experts.
Colour
Coloured kitchens are set to be a big hit in 2020, but not the bright quartz worktops of yesteryear! We're talking neutral coloured worktops with coloured units and walls. Muted shades make for a nice relaxing environment – plum, sage, teal are all good choices for a calming kitchen. Team them with pale grey or cream quartz worktops for a classic look.
Monochrome
If colour isn't your thing then you'll be pleased to hear that monochrome kitchens are also going to be popular in 2020. Black and white kitchens are stylish and contemporary and are easy to dress up with coloured accessories you feel the need for a little bit of colour. We have a huge range of black and white quartz and granite worktops to choose from, in a variety of patterns and shades, so you're sure to find one that takes your fancy.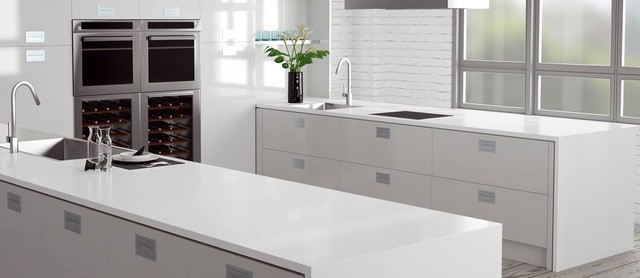 Custom Kitchens
Sometimes an off-the-peg kitchen just isn't suitable for what you have planned, and custom kitchens are the ideal solution. With the increase in multi-generational living, added functionality in your kitchen is a key consideration. Integrated seating, extended breakfast bars and islands that are multi-purpose for cooking, eating and working are all features you should consider. We work closely with several kitchen design companies who can turn your dream into a reality, so get in touch to discuss your requirements.
Two-Tone Kitchens
Mix things up in the hub of your home with a two-tone kitchen. We're seeing an increase in two-coloured kitchens and have to agree that they look great. They can really help to change the room and add contrast and interest. We like darker colours on the lower units and lighter colours on the top cupboards or making a statement with different colours on your island unit.
Smart Technology
The one thing that is indisputable in 2020 is that tech is working its way into all aspects of modern living, and that includes the kitchen. Alexa or Siri are no longer just a means to listen to your favourite music while you're cooking, they can also work with your appliances and lighting to control them, making your tasks easier and less stressful. Wifi-enabled gadgets can be controlled with your mobile phone, streamlining your day and helping to ensure a smoother running home.
Natural Worktops
Granite is the ultimate in natural finishes and is a great choice for your kitchen worktops. With the increased need for sustainability, a granite worktop will give you many years of use while still looking good and performing well. Scratch and heat-resistant, granite provides a strong, beautiful statement to your home. We stock a wide range of granite worktops – see a selection here.
Decorative Worktops
We are expecting to see a surge in decorative worktops found in kitchens this year. The range is huge, so whether you're looking for something eye-catching or understated but beautiful, we have something for everyone. Our attention to detail means we always make sure the pattern flows perfectly throughout your kitchen.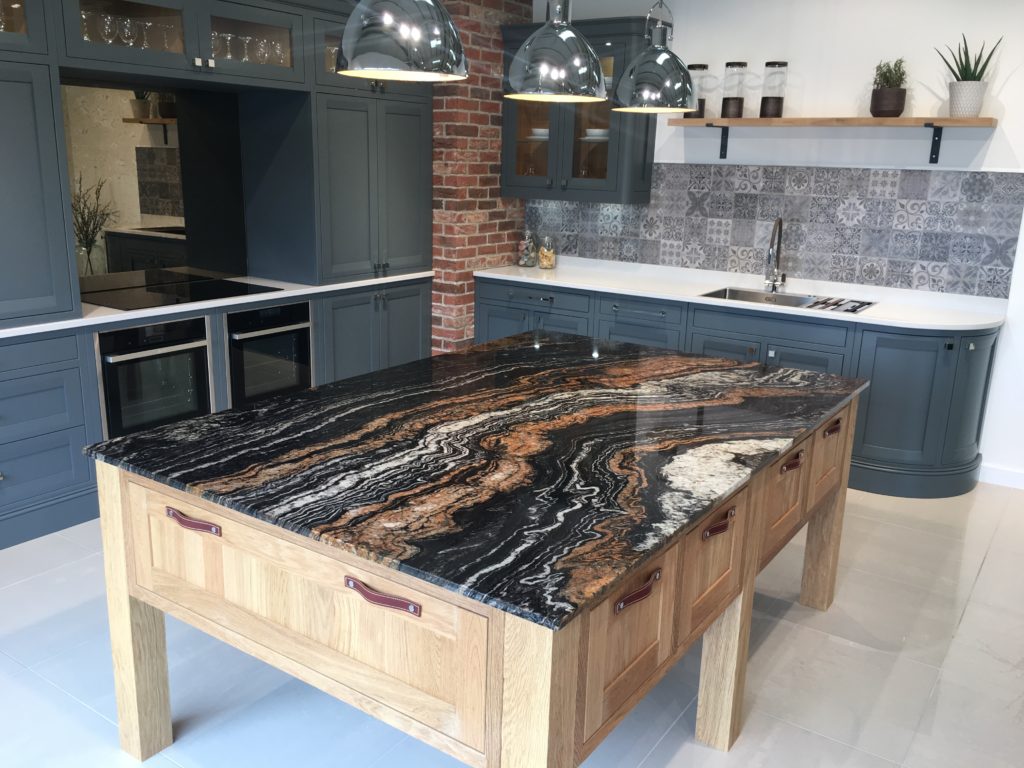 Taps
Taps are going to be a big focal point in kitchens this year, so make sure you opt for something with the WOW factor! We supply and fit taps and sinks from The 1810 Company, they have a wide range of taps to suit any style, so don't settle for boring taps. We are seeing more and more customers opting for boiling water taps for extra convenience.
Concrete
While we don't sell concrete worktops, we have plenty of quartz worktops that look like concrete but are more practical. Quartz is naturally strong and is scratch and stain-resistant, so it's an ideal alternative.
If you would like advice on any aspect of kitchen design and how to get your kitchen ready for spring, we would love to speak to you.
Call 01405 806300 or email info@cjstonemasonry.co.uk