When it comes to your family home, the kitchen is at the very heart of things.
A kitchen is often multi-generational as well as multi-purpose, and it's important for it to be practical and safe for everyone. Alongside that, it also needs to look good and that's where we come in.
If you're looking to make improvements to your kitchen, our range of quartz worktops from the world's leading suppliers has something for every home.
So why is quartz so good for family kitchens? Let our stone surface experts show you…
Why choose a quartz worktop for your family kitchen?
STYLE
Quartz is undoubtedly up there with the most stylish worktops available, and the way it looks makes it highly desirable in kitchens around the world. The variety of colours, patterns, finishes and effects means that whatever you're looking for, we can supply and fit it. If you want sparkles, not a problem. If you fancy something contemporary and uber-cool, we have just the thing. Or you want something traditional and classic, again we have lots that fit the bill.
Quartz worktops add style to any home, whichever one you choose.
Safety
When it comes to making decisions about your family kitchen and making it safe, quartz worktops are at the top of the list.
They are easy to work with, so we can give you rounded edges and corners, which cut the risk posed by sharp corners. This is especially important in a home with young children who aren't exactly known for being careful!
Whilst we don't recommend putting hot items directly onto your quartz surface, we understand that sometimes time is of the essence. Quartz can withstand direct heat for a short time, so, if you need to put a hot pan down in a hurry, you can do so without risking damage. Unlike laminate which would blister, and it would be game.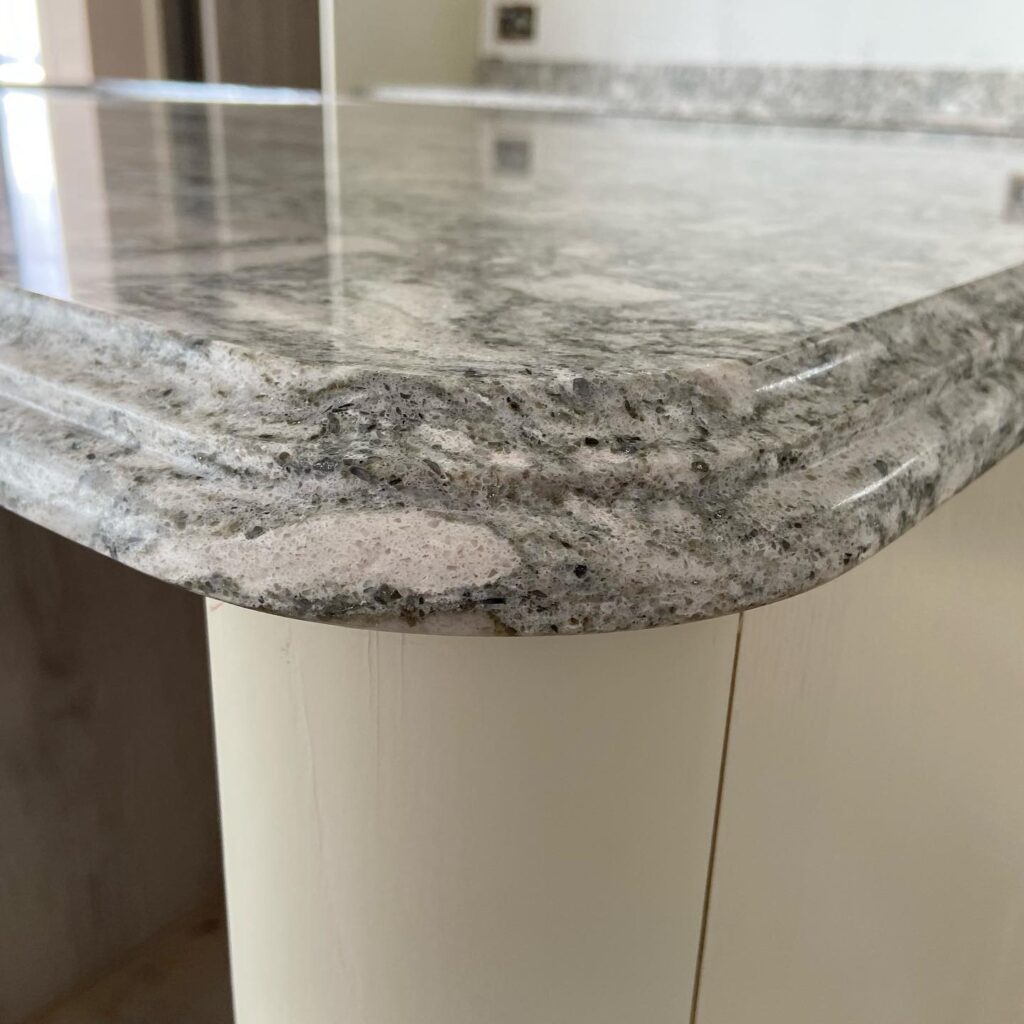 germs
We have nothing against kids (everyone at C&J has kids or grandkids), but we understand all too well that when you have children there are more likely to be germs around. Grubby hands on your worktop aren't a problem with quartz because it's non-porous and germs can't penetrate the surface. This makes them a safe, hygienic option for a family home.
Easy Care
We understand that busy parents don't have a lot of time to spend on keeping the kitchen sparkling clean, unless you have Mary Poppins on hand to help out.
With all the activities going on that invariably come with having children; sports clubs, extracurricular activities, dance class, swimming, or just spending time as a family, it leaves little time for housework.
That's why quartz is such a good choice, as it's super easy to keep clean and looking good for years. All you need is warm soapy water and a soft cloth, and your worktops will be clean in no time. We have them in our homes, and can definitely vouch for how easy they are to keep clean.
practicality
If you thought that having something white in your home once you've had children was a no-no, we have good news for you!
Our quartz worktops are stain-resistant so even if you choose bright white, they will still be bright white years down the line. You can throw anything at them and, if you wipe it off relatively quickly, you'll never know. Thanks to the technology the quartz manufacturers use, you need never worry about staining your worktop.
Whatever activities go on in your kitchen, from painting and playdough to baking buns and pizzas, they will stay looking great.
cost
Quartz is the most affordable of stone worktops and is a definite investment for your home. Replacement worktops are a good option if you're looking for a new kitchen but have a limited budget. They can transform a room in only a few hours, so you won't be without your kitchen for days or even weeks. And you won't be at the mercy of numerous tradespeople, who can be unreliable.
We do what we say we'll do when we say we'll do it. We even clean up after ourselves. All we ask is that you remove everything from the worktops to make our job easier, and make us a cuppa 🙂
choose your quartz
Take a look at our range of quartz worktops, and either complete the quote form or get in touch. We can send samples or you can pop in and see us at our showroom in Goole.
Our stonemasons have over 15 years experience, and we have 5-star ratings across the board. If you need any more convincing, take a look at our testimonials to see what our customers have to say.
To find out more or for a free quotation, get in touch with the team.
Contact us on 01405 806300 or sales@marble-granite-quartz.com